Gentlemen,
I would like to share a small meet up in Miami from this past Sunday. Our friend and fellow member Hogrider invited me to his home for a bit of razor talk and of course honing. It was wonderful finally meeting Hog. It was wonderful sitting outside enjoying the balmy afternoon and before we knew we had spent 3 hours honing and talking razors. Hog used my DMT8C to set the bevel on a couple of his razors, with tape of course due to the aggressiveness of the hone. He then moved to his Naniwas and finished on his wonderful Coticule bout. I used my Coticule (#56 from the Vault) on 2 razors, one of them I continued to do Dilucot and the other I did the Unicot. I then used Hog's wonderful bout and did a Dilucot on a 3rd razor. That was tested this morning and I must say the shave was Excellent!! I have now changed all but 1 razor to the Coticule.
After honing it was time for burgers and fine beer. My compliments to chef Hog!
I would like to thank Hog and his lovely wife Maria for the hospitality and for a wonderful afternoon.
Here is a photo of Hog setting a bevel on the DMT.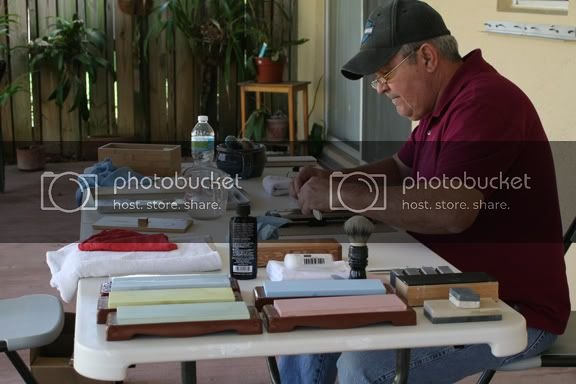 The 3 Coticules,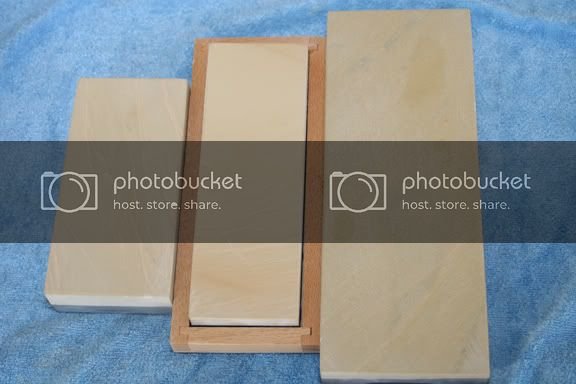 An Hog finishing 1 of his beautiful razors on his bout.
Can't wait for the next meet!
Lu