Recently bought a nice long narrow LPB bout from Harvitz. I was looking for a fast and longer version of my little 18 mmm wide bout, which I use for spot bevel work. This LPB is 18 x 150 and fast so it fits the bill. But as I lapped it I was struck by the side view.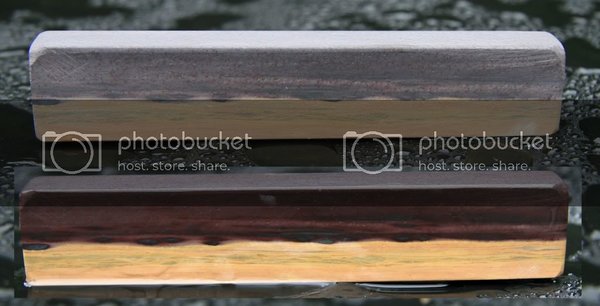 This thing is a natural combo and it is 27 mm deep. The side of this bout screamed out to be lapped and used as a near perfect size all round hone. So I did and it works extremely well. I can start on the narrow yellow, get the bevel in good shape, then rotate onto the side and do a quick dilucot and finish on water only. I've taken three razors down to dulled on glass and finished them on the side to an HHT of 3+ in short order, and they shave nicely. Haven't had time to really work the final finish, but HHT3 off the stone is pretty good for the first few tries. Better than I got trying only the yellow, which needs frequent washing to reduce slurry dulling.
I hold the bout so that the edge slides across the yellow side before finishing on the blue. Has a great feel and sound to it and works like a champ. The blue only side is very hard, feels more like a Thuringian than a BBW. Eventually I'll try finishing on that as well, just for fun. If it works it will end up being a three-in-one hone, not bad for a skinny little piece of stone.