Well not completly new because i was reading here a few weeks allready.
I'm from Belgium, 42 years old, and live nearby Antwerp (and my English writing is not that good)
I'm a knife collector and into the old ways of doing things.
I'm not new in wet shaving, to be honest i only shaved a few times electric.
I once reveived a Gillette Sensor Excel when they started producing these models (as a promopackage) and used that for many years.
A few years ago i found a razor with gilette blades you had to plie in two pieces and insert one half in the razor ( brand: Weltmeister).
Not the real thing but it worked very well, definetly to get a hang in the technique.
Now time to bite the bullet and buy a real straight razor.
I'm not experienced in brands of razors, so can someone tell my what to buy best for a beginner.
Something suitable for learning to hone.
Another great story:
I visited a old store in my search for old lanterns ect. Time stopped there in the 1940-1950's when the owner suddenly died, and the daughter in her 80's now, still holding the store open. I was there allready many many times, so they let me in the buildings normally not open for the public.
Searching all the crates, i came with a wooden crate full with hone stones.
I decided to take from every sort hone, a piece with me.
The grey one is called Our Levant, the black one Portanigra, and the other, guess what.
I talked to the lady and they're all 70-80 years old she guessed.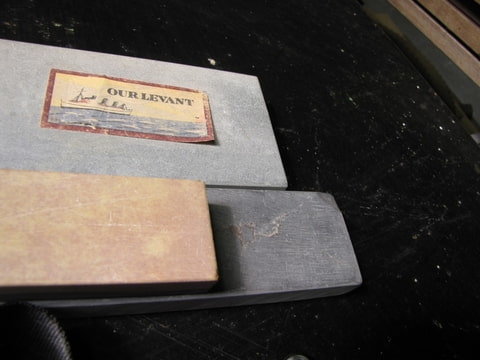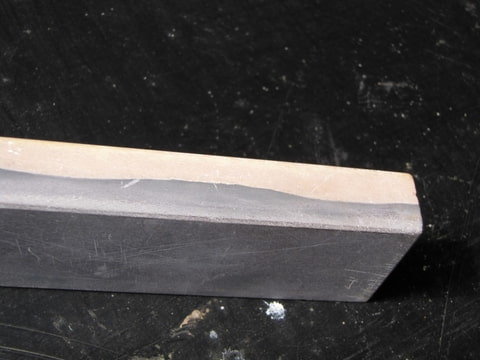 Later on the knife forums i saw images of coticules so i knew i hit the jackpot.
So a few weeks later i went back and took all the goodies.
If someone could point me in the direction of a good straight razor, for shaving, and learning to hone, its much appreciated. I'm not that far from The Koordenwinkel, i checked the site, but no idea whats good or not.