:w00t:
artyhat: :w00t:
Today was a really good day (besides having a mild flu).
In the past hour-and-a-half I revisited my La Verte (I think it is, anyway, thanks Ronny!): I retouched my Theo A. Kochs Apex, I got a HHT 3/4 quite inconsistently along the edge after stropping.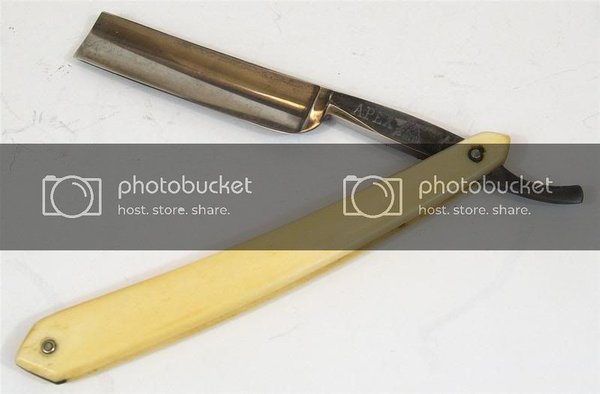 So I put on two layers of tape (one more than before), and after three sets of half-strokes on a very thin slurry I did thirty X-strokes on water with the left-over slurry on the blade, another thirty with a clean blade on clear water. Lo and behold :scared: HHT 4 off the stone! After hitting my 2.5" Scrupleworks worsted wool/leather, 90:100, it is pretty near to a HHT 5 all across the edge.
So that, for me, was a confidence boost I very much needed after struggling very hard with my Clauberg and all three coticules I own that would not get anywhere near a decent bevel (which, incidentally, I pretty much managed to get after, as Bart recommended, hitting the La Veinette with a thick-ish slurry and gradual reduced pressure for about half an hour straight, woop-dee-doo!)
AND I hurled my recently restored and honed Mabenso (Machenbach & Benz) first on the La Verte, then the Scrupleworks, then on the floor, along with one drop of blood from a fortunately failed attempt to catch it. Amazingly (probably due to the fact that whe have a laminate floor instead of a tiled one, the gods be praised) it got away with a minor ding in the edge near the tip. I revisited the La Verte, doing an abridged bevel repair and dilucot on just the tip. Finished off with a set of thirty X-strokes along the entire edge, stropped again - now utilising a ratio of 'only' 50:75 wool/leather, with focus on the tip - and now a consistent HHT 4, also on the tip. You can still see a slight breaking of the light on the tip, but luckily it was no chipping and pretty much works as I'd expect a wavy edge to function: perfectly, it's reduced to an aesthetic flaw, and a minor one at that.
And the cherry on top of the cake: I didn't screw up my strop this time (last two times I nicked the Scrupleworks, sorry Torolf
)!
SO IN SHORT: Tie me to a chair, beat me with a stick and call me grandma! Another adventure-packed day in the life of Pieter 'I-wish-I-had-a-cigar-smoking-chimp-driving-a-firetruck' K. Cuck-a-doodle-doooo!
And now I'm off to the sauna, so y'all can just bugger off. B)