I received my Fine Accoutrements Worlds Finest Razor today and shaved with it tonight. Fine Accoutrements introduced this razor last Summer and folks immediately formed opinions on it without even trying it. For one, this was a $165 stainless steel razor made in China. To cut down on cost, it was shipped in three plastic bags for the handle, cap, and base plate instead of a fancy custom made cardboard box. Then there was the part about the name, not because it had the audacity to call itself the worlds finest, but because they did not put the ' between the d and s - World's. Of course, I got mine on BST for much less, and it came fully assembled in a larger plastic bag, so the wait was worth it.
Supposedly this razor was a tribute to the Gillette Short Comb, and to an extent, the handle bore a slight resemblance to the Common Bar. Of course it differed by using pins for aligning the blade and the open comb had a bar running through it similar to the Muhle R41. Upon close examination, the comb actually went completely around the bar resembling more the Roller Guard base plate made for the Gillette Old Type, however it did not roll.
Build was quite good, and Mr Fine reminded you of the name of this razor by engraving the name on the cap, base plate, and handle. The handle, unlike the Common Bar, was a solid piece of stainless steel and so the razor was quite heavy, with most of the weight toward the bottom because the head itself was thin.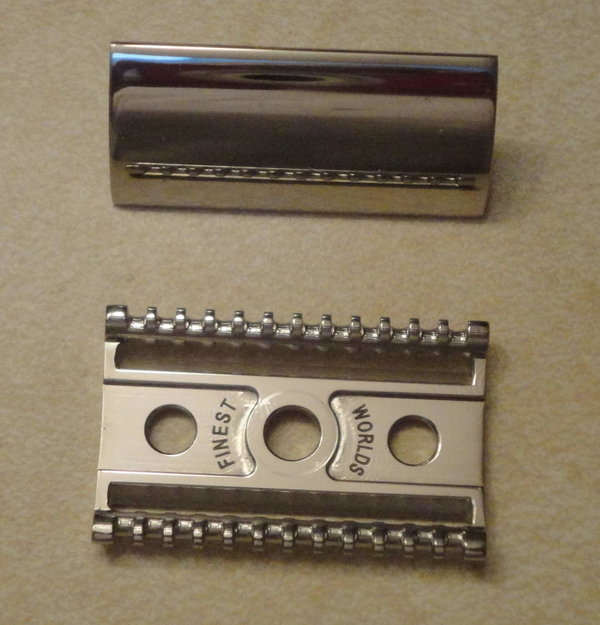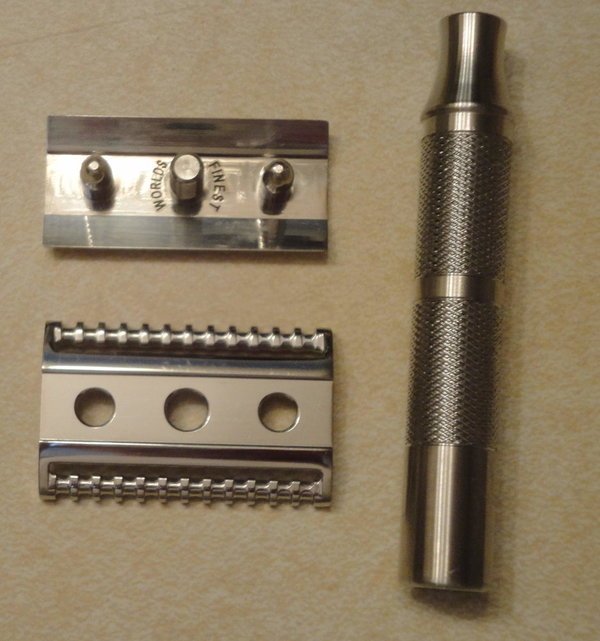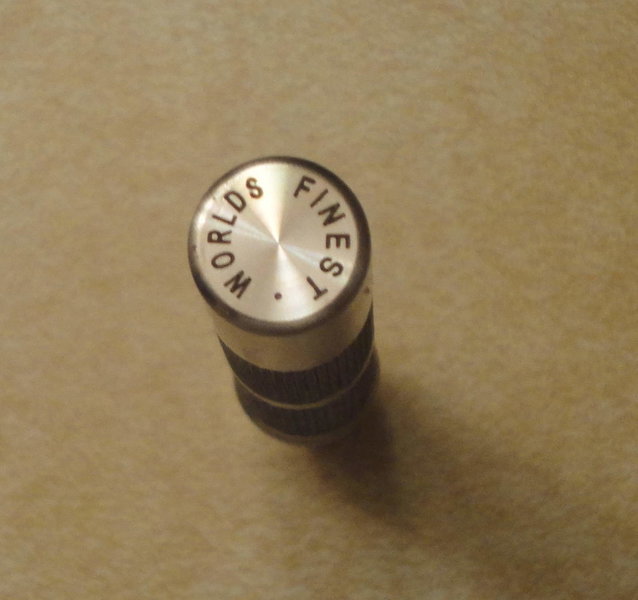 First shave was tonight and the WTG pass was a little on the rough side and so I adjusted the angle to ride the cap more. The shave then became very comfortable and efficient. Maneuvering the head was not a problem as it's smaller size made it easy to get into hard to reach areas. The shave definitely felt more like shaving with a roller guard than it did a short comb. ATG went well, however there was some buffing in areas that did not get as clean a shave as I had wanted. I finished off with an XTG in the usual places along my jaw line and under my chin and ended up with a comfortable BBS. I have to admit that this was just barely passable as a BBS and one that will probably start producing some stubble in a couple of hours from now. Still, it was a comfortable shave and for those that seek a daily shave, this would pass for one.
Is it the Worlds Finest? I am not sure. I guess Mr Fine by omitting the punctuation mark was implying that this would be the finest razor of many different worlds. I know it isn't on Earth, and I know that Merkur has a lock on Mercury, so maybe Uranus? The price is a hinderance since one can get away with two Razorock stainless steel razors or a Blackland Dart for way less money, and these are built in North America.