Hi All,
I picked this pair of razors up for £5!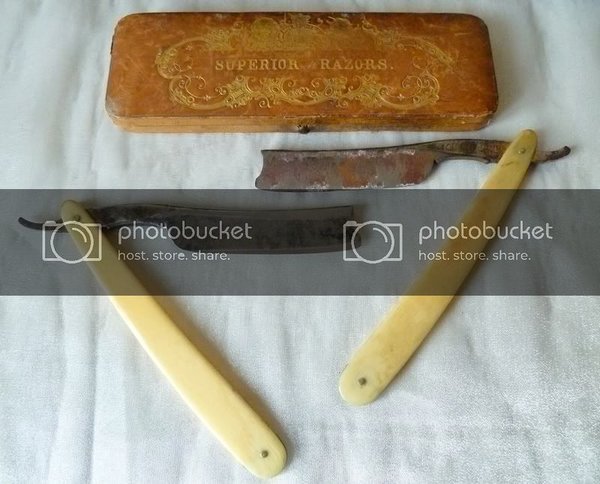 They are heavily covered in rust. I had to sand the tang to find the makers name. TURNER & CO, SUFFOLK WORKS, SHEFFIELD.
The box has been attacked by woodworm. The edges looked more like that of a saw than a razor but apart from that they were fine
The scales are ivory and both have a crack at the wedge end but I don't think they have been re-pinned
I've sanded the worst razor of the two to 600 grit which has removed the orange but hasn't touched the blackening left by the rust. I put it on a Norton 225 and was surprised to find a clean, decent piece of steel under the rust (I thought the edge would be no good after such neglect).
Also I was surprised to find honing a smiling edge easier than I expected.
I then honed it on 1000 grit Norton, then BBW (to get rid of some of the scratches left by the 1000).
Then put two layers of tape on (as this is nearly a full wedge), then honed again with BBW and now it actually SAH.
I added one final layer of tape and performed a full dulicot.
All that work really paid off! This is one of the best edges I've ever produced. The hairs just fall silently. I was ready to leave these razors for dead! Can't wait to shave with it