Ok, Guys,
Here is another method of removing scales which can sometimes save a set of scales when unpinning.
Start by removing one pin head riveting bulge.
1.grip and slowly pull a bit of slack with the other end of that pin.
2.When you have a few thousandths of inch/fractions of a mm of pin showing
3 push the razor's blade against the pulled pin side to make slack space next to the blade.
4.use a jewelers piercing saw frame and a 00 or finer blade and saw through the pin next to the blade.
5.Then you can sometimes push the pin ends out from the inside. You may have to file the inside pin ends to get rid of some expansion before they will go all the way through! I did that about forty times in the last day or so. I finally cleaned out my to-do box
Be slow and safe. If I am in a hurry and don't listen to my inner warning soon enough..SNAP.
And, I did lose four scales.
They are really cheap and worth a lot in time saved and tricks learned!
A bench pin surely helps also!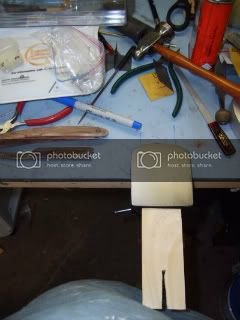 Respectfully
~Richard
Edit 18-7: Be sure to be careful as the saw is sharp, and hard, and will cut the blade or the scales if you have the angle wrong!! Practice on junk razors first!