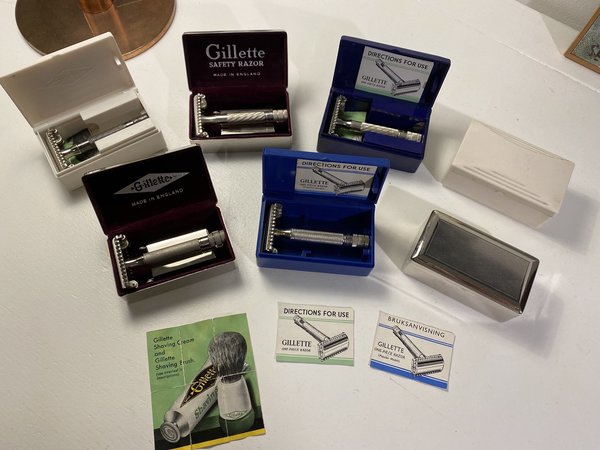 THE GILLETTE POPULAR
was a unique line in the British Gillette 1930s model offering, made alongside a.o. the 1st generation Aristocrat. The Aristocrat and Popular models were quite alike, both being TTO open combs and having the same head. But the Populars have a distinguishably thinner handle than the Aristocrat, and on top they have that unique quirky feature where the blade doors do not open automatically when you twist the knob (as they do one any other Gillette TTO). Instead you have to twist the knob open but then
manually
flip the doors open either by turning the razor upside-down or by simply flipping the doors open with your fingers.
The Populars were made in 1938 through 1940(?), as far as I know.
1938 and 1939 razor differences
The dead give-away difference between the 1938 and 1939 models is that the 1938 model has Rocket style handle knurling whereas the 1939 version has the gorgeous barberpole handle pattern also seen on the British Aristocrats.
The 8 set variations (I know)
In total I have so far counted only 8 set variations. For each of the 1938 and 1939 years the razor came in 3 different set versions, as also shown in this 1938 advertisement: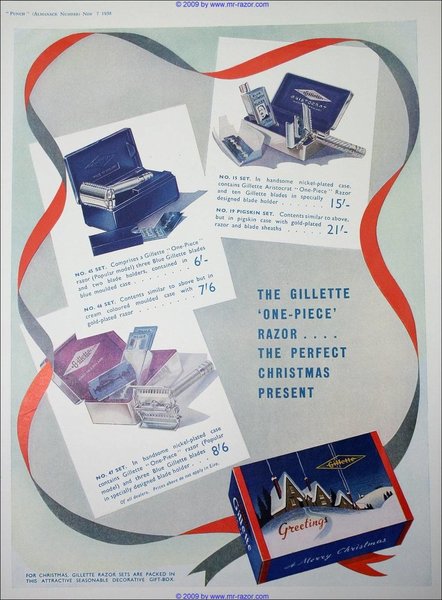 The #45 set held a nickel plated razor (some were all nickel, some had a silver plated handle) in a dark blue bakelite case. The #46 set held a gold plated razor in a similar but white bakelite case. And finally the more expensive #47 set also held the nickel plated razor (again, some with silver plated handle) but in a bright nickel polished case. This nickel case incidentally was almost identical to the #15 Aristocrat set case but was unique to the Populars as it had a different pattern on the top of the lid (see separate picture below showing the differences). And like the Aristocrat the case came either with the diamond logo imprint or with an all-block letter imprint. Both shown here, notice how large the block letters are.
On top, the 1939 nickel razor also came in a beautiful red leather Travelers Set, coined the #4 set.
The unicorn
The 8th, final, and to me most unique set variation came in 1940, according to mr-razor: A white bakelite case holding an only-once-seen razor with a bright nickel head and a
black anodized nickel handle
. A stunning model with that handle color which was only seen during the same era on some Rotbart models. This set is even harder to track down today as it seeemingly was made only for the French market, with both case and razor engraved/embossed 'Importé D'Angleterre'. As far as I understand, we don't know today which # moniker this set was given.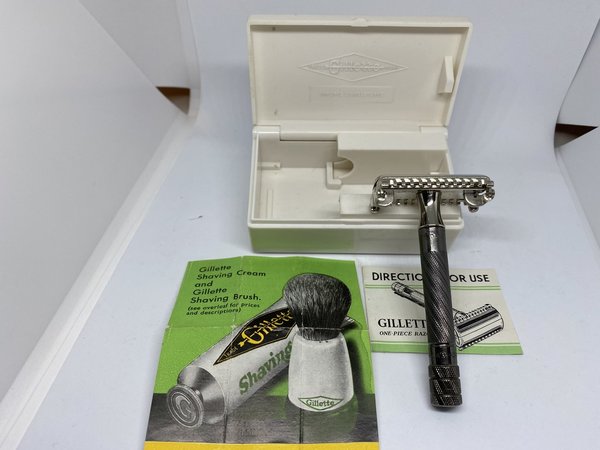 So far, I have been able to land 6 of the 8 set options, only missing the #4 Traveler and the 1938 version of the #46 set. And my 1939 gold plated razor is currently with Captain Murphy and Chris Evatt for a full refurbishment - as described in an earlier separate thread here on B&B. Half of my sets I've found matched but as such matched sets are rarely offered I've had to also look out for set pieces to get to where I am. Like if I've spotted a Popular case with a mismatched razor I've been quick to collect it and keep it until I've fallen into the correct razor to match a set. The true hard-to-find items are those loose bakelite bladeholders which typically have been binned many years ago unless part of an unused set sitting at the bottom of a drawer.
I hope that the future holds for me to find the last oustanding sets, so I can call my collection complete. Enjoy!
1938 Gillette Popular #45 set, nickel (blade banks sadly missing)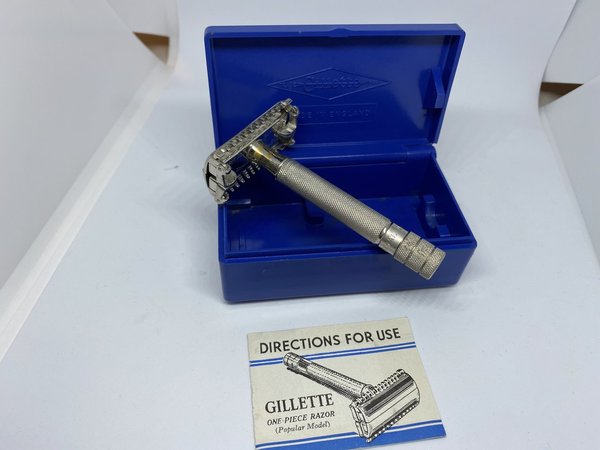 1938 Gillette Popular #47 set, nickel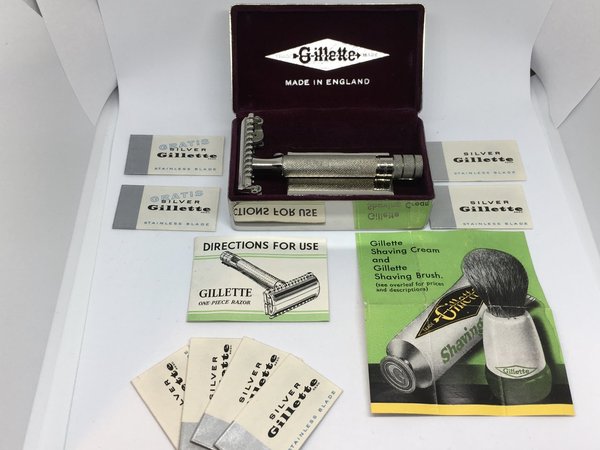 1939 Gillette Popular #45 set, nickel/silver, dark blue bakelite case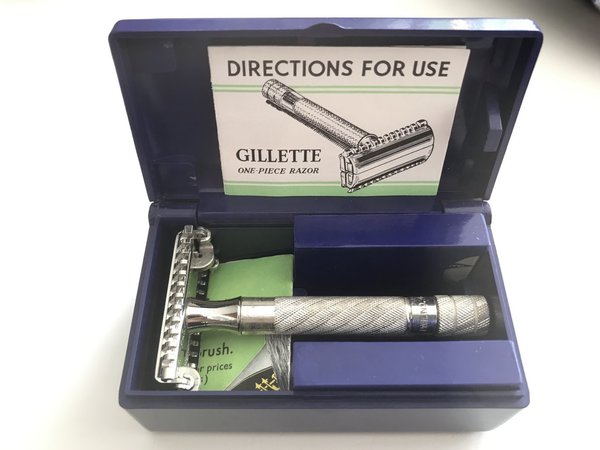 1939 Gillette Popular #47 set (silver replate)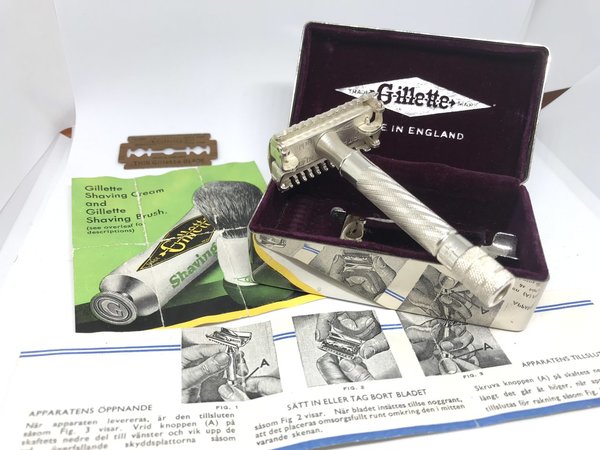 Case differences (left to right: Early Aristocrat #15, later Aristocrat #15, Popular)