I was recently asked about how I get an even epoxy finish on my brushes and scales. I decided that if I were to release a "secret" that it would be done here.
First and foremost, hand sanding sucks! I do not sand my finishes unless absolutely needed.
I took a rod lathe used for curing epoxy on my custom fly rods and modified it to hold whatever I am curing.
For most people they could purchase one of these from any rod building supplier or they could obtain a rotisserie motor and modify that to function as they see fit. I have many of these some with adjustable RPM and some reversible, but for most of applications I stay between 10 and 36 RPM.
The picture includes how I mount a brush handle (Chris' brush).
For scales I have an adapter made from packaging foam that allows me to use paper clips coated in paraffin wax to hold them. I must say that I rarely use epoxy for scales, but when I do this makes it so much easier. I have no drips to sand off and the finish is even.
If you are using this for scales do not coat the wedge area too thick as this makes the wedge fit poorly and then you have to sand I generally coat this area very thin if at all during this process.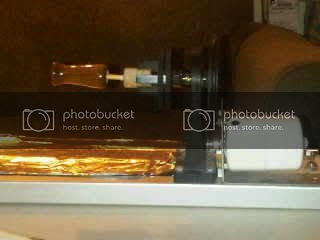 That is two motors attached to a plate I switch between them by moving the belt.
I use the foil below to mix the epoxy then to catch drips as I pay more attention to the handle rather than the application brush.